Publicans hail MPs' beer tie vote as 'minor miracle'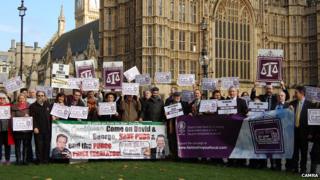 A Commons vote to change a law tying thousands of tenant landlords into beer supply contracts with large breweries and pub companies has been hailed as a "minor miracle".
Currently, some pub tenants subject to "beer ties" have to pay more than the market rate for alcohol and cannot purchase it from cheaper suppliers.
Landlords said it would make the system fairer and improve choice for drinkers.
Pub companies claimed the move would lead to job losses.
The change was passed on Tuesday evening in a shock defeat for the government following years of lobbying by the Campaign for Real Ale (CAMRA) and hundreds of publicans.
Tied pubs
There are about 51,000 pubs in the UK at the moment, with nearly half of those "tied pubs"
These are pubs owned by a large company, known as a pubco, or brewery
Tenants are charged a lower rent for the building but must buy supplies from the pubco at higher than the market rate
Source: Report for the Department for Business, Innovation and Skills  
Jill Perkins, who runs the Jolly Brewer in Stamford, Lincolnshire, has worked in the industry for almost 10 years and has supported the Camra campaign.
"We've been running this pub for eight years and, if things had stayed the way they are, I don't think we would have stayed longer than another year," she said.
"People are going bust and being ripped off in ridiculous ways. These big pub companies just do as they please. Often it looks like they don't want the pub to stay open."
Ms Perkins said if the tied house position improved, it would help bring down the price of beer, or at least halt the rise, allowing more choice for drinkers.
"We want to start brewing our own beer but to sell it in our own pub we would have had to sell it to our owners who would then sell it back to us," she said.
"I also think it could improve the industry. It's got so bad, you have to work so hard for such little money it can attract the wrong sort of person. If the situation improves more people will want to be landlords."
"We think Admiral Taverns is one of the better firms but I don't know any other industry where you could be treated the way that the big companies do," Ms Perkins added.
Simon Clarke, who runs the Eagle Ale House in London, has been campaigning for change for eight years and said it was a "minor miracle" they had succeeded.
"Until now, some of the bigger companies have operated what is little more than a boiler room scam," he said.
Following the passing of the bill, several big companies suffered losses on the stock market amid claims it would lead to thousands of job losses.
But Mr Clarke said it would only be a problem for firms which had been squeezing tenants for every penny.
"It is bound to cause a bit of a wobble for companies but they will have been planning for it for years."
He added it would be easier for landlords to deal with micro-breweries and provide better choice for beer drinkers.
But the big pub companies could challenge the law with a judicial review and the amendment has yet to make it through the House of Lords.
The British Beer and Pub Association, which represents brewers and pub companies, said the legislation was "hugely damaging" and is campaigning for it to be changed.
"There are serious legal and competition issues which must be faced, as it rides roughshod over what are previously agreed contracts, and creates an unworkable, two-tier market," Brigid Simmonds, the chief executive said.