Two arrested in hunt for South East burglary gang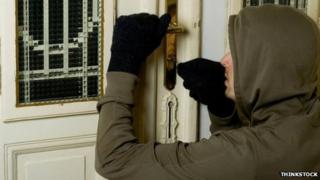 Two people have been arrested by police hunting a gang suspected of carrying out more than 100 burglaries in Kent, Surrey, Sussex and south east London.
A 41-year-old man and a woman, 37, were arrested in Essex on suspicion of burglary after police stopped a Ford Mondeo.
Detectives believe the vehicle could be linked to some of the burglaries.
The man remains in custody and the woman has been released on bail until 30 January.
Cloned plates
Five burglaries in East and West Sussex, carried out on the night of 12 November, are the latest to be linked to the gang.
Among the items stolen were diamond rings, gold jewellery and cash.
Boxes of jewellery found in White Styles Road, Sompting are believed to have been dumped by the burglars.
A silver Audi was seen in the area at the time of the break-ins but police believe the gang is using cars fitted with cloned number plates from others of the same type and colour.
A reward of up to £10,500 has been offered for information leading to the arrest and conviction of anyone involved.
More than 37 homes in West Sussex, 10 in East Sussex, seven in Brighton and Hove, 35 in Kent, eight in Surrey and two in south east London are thought to have been targeted by the gang.