Anti-terror lessons by police in Portsmouth schools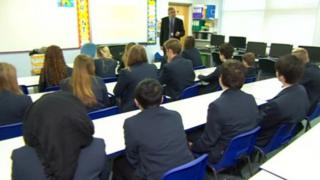 Counter-terrorism police have begun giving school pupils anti-extremism lessons to try to prevent young people becoming radicalised in Portsmouth.
Four men from the city have died fighting with the terror group calling itself Islamic State (IS).
The work in schools is part of the Prevent strategy to tackle extremism.
Steve Hawkins from the special branch team said: "The students fully understand what's going on and they are very sensitive to those issues".
A team of counter-terrorism officers has been formed to go into Portsmouth classrooms to teach pupils about what terrorism is, and to ask them to speak up if they suspect any one they know is being influenced by extremists.
Mr Hawkins said: "As far as possible, we don't want to criminalise anybody.
"If, at an early stage, some of the vulnerabilities that people have - who are going down the road of extremism - are reported to us, then we will deal with those issues."
The schools programme has been put in place following concerns about extremism in Portsmouth after a group of six Muslim men from the city travelled to Syria to fight with IS.
Four have since been killed in the fighting and two other Portsmouth men are being prosecuted for Syria-related terror offences.
'Be aware'
The lessons not only deal with the issue of the radicalisation of young Muslims, but also look at how people are drawn to other forms of extremism such as violent animal rights campaigners.
"At any age a young person could potentially be led down the road of extremism, if they're given the right information, and perhaps they've got grievances in their life," Mr Hawkins explained.
Portsmouth has had ongoing tensions with right-wing English Defence League supporters who have staged protests outside local mosques.
Year 10 pupils, aged 14 and 15, at Priory School in Southsea are among those who have had the sessions which police are now hoping to roll out more widely across Hampshire.
Pupil Alisha said: "Everyone should know about it, everyone should be aware of what's happening."
Head teacher James Humphries said: "It really brings it home to them that they are part of a community, and that these things happen in their community."
"It's helping them to understand that there's precise definitions of terrorism. It's alright to have beliefs, it's alright to have opinions, but when you cross a line into illegal activity, that is a very serious point."