'Finding Marmie like winning lottery' Kent cat owner says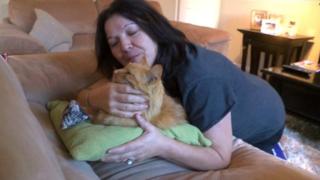 A missing cat has been found nearly four months after allegedly being kidnapped by his owner's ex-partner.
Marmalade's owner, Tracy Brewster, said the 13-year-old ginger cat went missing from home in Maidstone, Kent, in July.
After a huge Facebook response in the search for her pet Ms Brewster said his return was "better than winning the lottery".
A man has been charged with theft in connection with the cat's disappearance.
Ms Brewster delivered leaflets and set up an online campaign, which was "liked" by 4,000 people.
The cat, nicknamed Marmie, was found nearly 40 miles away in Surrey by a couple who thought he was a stray.
They took him to a vet who discovered he was microchipped.
"He's just fended for himself - I can't believe he's survived.
"I probably would have had a breakdown - I was that close," said Ms Brewster.
"It's like winning the lottery. No amount of money could take the place of him."