Gloucestershire Warwickshire Railway extension work begins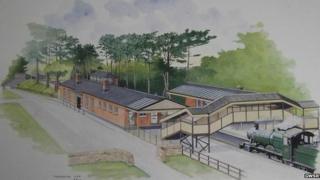 Work has begun to extend a heritage railway after a public shares scheme topped its £500,000 target.
The Gloucestershire Warwickshire Steam Railway (GWSR) will now be extended to the Cotswolds village of Broadway.
Shares in the rail line, which currently runs between Cheltenham and Laverton, went on sale last September, raising a total of £565,000.
Finance director Chris Bristow said the extra money was "a bonus" and track laying would begin next year.
When finished, the line will run to 14 miles long.
Mr Bristow said some investors had donated more than £10,000 to the project, which would see trains return to Broadway for the first time since 1960.
Work to repair five "deteriorated and abandoned" bridges along the proposed route has almost been completed, he said.