Gatwick second runway: Kent County Council withdraws backing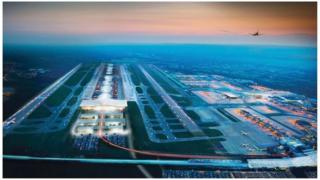 Changes in Gatwick flight paths have prompted Kent County Council to withdraw its support for a second runway at the West Sussex airport.
Council leader Paul Carter said the new flight paths had made life intolerable for people living in the Bidborough, Chiddingstone and Speldhurst areas.
The council previously support the second runway in its report, Bold Steps for Aviation, published in May 2012.
Gatwick said it regretted the council (KCC) had reversed its decision.
Night flights concern
The Airports Commission is considering three options for airport expansion in the South East - a second runway at Gatwick, a third runway at Heathrow, or an extension to one of the existing Heathrow runways.
KCC's new policy is expected to be approved by its cabinet on 1 December and submitted to the Airports Commission as part of its three-week consultation.
"What has changed big time is that the National Air Traffic Control have started to implement changes in flight paths," said Mr Carter.
"This has brought to our attention the concentration in flight paths but also that the number of night flights at Gatwick is about three and a half times the number at Heathrow, which is a massive issue."
Five MPs from Kent, Surrey and Sussex also expressed their concerns about the new flight paths and the second runway, at a meeting in Crawley on Saturday organised by Gatwick Area Conservation Campaign.
Alastair McDermid, Gatwick's airports commission director, said flight path changes had reduced the number of people who were affected by aircraft noise but those under the new routes did have more noise.
"There will be no further changes while we look at this and we try to learn would be the best way to implement them," he said.
He said thousands of households affected by noise from a second runway would get £1,000 a year compensation and insulation grants.