Chester Station train crash: Emergency sand 'used too late'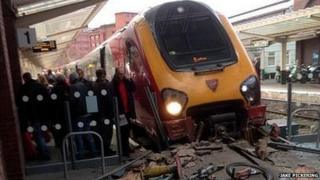 A train's 'safety sand' was released too late to deal with leaves and oily rails and stop it hitting the buffers at Chester Station, a report has found.
The Virgin train, travelling from London Euston to Chester, hit a barrier after pulling into a platform at the station in November 2013.
The Rail Accident Investigation Branch (RAIB) found the train's emergency sanding equipment was deployed when it was too close to the buffers.
Nobody was hurt in the low-speed crash.
The train was travelling at about 6mph (10km/h) when it hit the platform at just after midday on 20 November last year.
The report said it had been "fortunate that there was no-one in this area at the time".
The RAIB said there had been several other cases of class 220 and 221 trains, like the one in Chester, having similar issues with stopping.
As a result, it said all trains of those classes should be fitted with an automatic sanding system, which would deploy in event of wheel slide.
It added that Virgin Trains had committed to adding the system to its class 221 fleet.