'Illegal gangmaster' accused claims bank deposits were debt repayments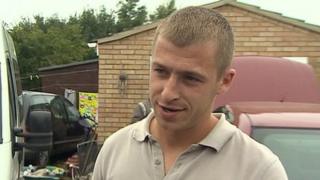 Large sums of money appearing in a man's bank account were debt repayments and wages, a court has heard.
Latvian national Ivars Mezals, 28, said several receipts of about £2,500 were his wages and repayments on a £25,000 loan to Juris Valujevs, 36.
Both men deny fraud and acting as unlicensed gangmasters in Norfolk, Cambridgeshire and Lincolnshire.
Blackfriars Crown Court heard they used fear and debt to exploit people brought to Britain from the Baltic States.
Mr Valujevs' wife, Oksana Valujeva, 33, and their friend Lauma Vankova, 26, are also on trial and deny conspiracy to do an act to facilitate the commission of a breach of UK immigration law by a non EU person through arranging marriages.
Mr Mezals, from Conference Way, Wisbech, Mr Valujevs and Mrs Valujeva, from Cresswell Street in King's Lynn, and Ms Vankova, from Turbis Road, King's Lynn, were arrested in raids led by Cambridgeshire Police.
Workers threatened
The court has heard threats forced victims into labouring in the fields, sometimes for £1 a week, to work off debts.
In 2012 and 2013 Mr Mezals received a number of payments of about £2,500 from NV Gang Work, the court has heard.
"These payments are my wage, and debt Janis Vincukova borrowed.
"He borrowed £25,000 in January 2012. He says he needs it for his brother for an operation on his leg," Mr Mezals said.
The money was marked "wages" on bank account summaries.
Defending, Di Middleton said Mr Mezals earned money from renting rooms to fellow workers, running a transport company and selling renovated scrap cars.
Many workers who failed to pay their rent were not evicted despite huge debts.
Mr Mezals said: "Actually it was my biggest mistake, but I never threw out anybody."
Migrants who complained about debt were told if "you don't pay your life will be ended like Alisa's (Dmitrijeva)" - the Latvian teenager found murdered on the Queen's Sandringham Estate in 2012, the court has previously heard.
The trial continues.