Dr Lam Hoe Yeoh jailed for secretly filming patients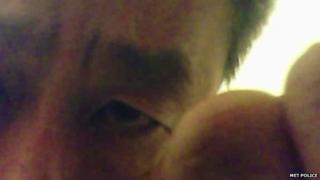 A doctor who secretly filmed hundreds of patients, colleagues and hospital visitors has been given an eight-year sentence.
Dr Lam Hoe Yeoh, a world-renowned hearing specialist, fixed cameras to toilets in hospitals and trains across the UK.
Some of the 62-year-old doctor's victims were young children.
Yeoh, from Banstead, in Surrey, admitted seven counts of voyeurism at Croydon Crown Court.
'Nefarious and despicable'
He also pleaded guilty to six charges of making indecent images of a child and one of possessing extreme pornography.
The doctor's crimes were discovered after one of his cameras fell out of position at St Anthony's Hospital, in North Cheam, south London.
He had inadvertently filmed himself securing it into position.
After his arrest in April, police discovered footage from 1 January 2011 to 15 April this year.
Yeoh used pen drives and watches to film at numerous locations across the country, including the Portland Hospital in central London, medical facilities in Exeter, Sutton in south London and Thames Ditton in Surrey.
He also captured clips in toilets at a clinic in Nottingham, on trains and at his own home during a social event.
The court was told he used "graphic descriptions", including dates and names, to label the footage found on his computer.
Children aged between three and 14 featured in Yeoh's footage and the consultant made indecent images featuring six different children.
Sentencing him to the "substantial" eight-year jail term, of which he will serve five years in prison and three years on licence, Recorder Warwick McKinnon described the offending as "nefarious and despicable".
He said: "The sheer scale, the gravity, the ingrained and compulsive behaviour demonstrated by the offences is significantly important.
"You are considered a high risk to the public.
"[Had you not been caught], I have no doubt that this prolific offending on a hitherto unprecedented scale would have continued."
One of Yeoh's victims, a 23-year-old health professional from Sutton, said she had felt "humiliated and violated" when she found out she had been filmed in her workplace toilet.
"It has led to me becoming anxious about my surroundings," she said.
"Even when I was abroad on holiday in June, I was mindful of what had happened because I searched my hotel room and woke my boyfriend because I became suspicious of a smoke detector - I was concerned it might have contained a camera."
Speaking outside court, Det Con Aaron Moon described Yeoh's actions as "appalling and abhorrent".
He said: "We believe he is one of the most prolific non-contact offenders ever investigated by the Metropolitan Police or any other police force in the country.
"But now the lie he has led for many years has been exposed and he has been forced to answer for his actions."
Defence counsel Sally O'Neill QC said her client indicated his guilt "from a very early stage" and had been "distressed" when his wife was wrongly implicated in the crime and had made no attempt to share, distribute or publish any of the images.