Dr George Daniels: Experts celebrate life of 'watchmaking pioneer'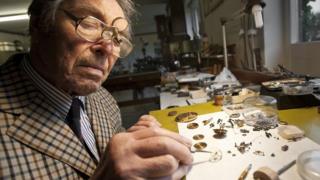 Some of the world's leading watch experts have gathered at City University London to celebrate the life and work of a "watchmaking pioneer".
In a career spanning 60 years, Dr George Daniels, who died in 2011, was responsible for some of the most important advancements in his field.
Following his death he bequeathed substantial funds to the university.
Organiser of the lecture Professor Ken Grattan said he was "hugely inspirational."
The London-born watchmaker who lived most of his life in the Isle of Man attended City University London's predecessor, the Northampton Institute, in Islington.
He linked much of his outstanding success to his time there as a student.
Following his death his personal collection of watches and clocks was auctioned, raising more than £8m for his educational trust.
The trust currently supports four scholars pursuing undergraduate degrees in the School of Mathematics, Computer Science and Engineering.
All said they were "immensely grateful" for the help.
The lecture by Andrew King, a historian at the Worshipful Company of Clockmakers, examined the work of legendary clockmaker John Harrison, who lived from 1693 to 1776.
Mr King said: "John Harrison's H4 clock marks a horological watershed. It forms the foundation for all subsequent innovations in timekeeping."
Professor Grattan, the first George Daniels Chair in Scientific Instrumentation, said he was was a "hero for George" and that both men were "true pioneers."
The most successful of Dr Daniels' inventions, the co-axial escapement, won him international acclaim and is regarded by experts as one of the most significant timekeeping developments in 250 years.
His invention, which delivers higher accuracy over longer periods of time, was taken up by brands such as Omega.
He made every component of his watches by hand and each could take more than 2,500 hours to complete.