Norfolk and Suffolk mental health ward to reopen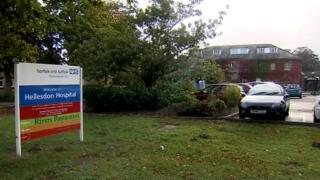 A mental health trust has started recruiting staff for a reopened 10-bed ward after rejecting a report raising concerns over its cost.
A Norfolk and Suffolk Foundation Trust (NSFT) meeting in October said the ward at Hellesdon Hospital, Norwich, was too expensive.
But the decision has been overturned by a special meeting, held via emails.
The NSFT has also cut the number of patients sent to other parts of the country from 50 to 33.
A report to the trust's board of directors in October said the plan to reopen the ward would add an annual £1.9m bill - against a yearly saving of £1.4m after an initial saving of £2.4m on the current system.
The report, by non-executive director of the trust Adrian Stott, said the scheme to open the beds was not approved due to the lack of money and raises concerns over reopening the beds at "a time of financial distress".
NSFT chief executive Michael Scott told the BBC the decision to press ahead with the beds was taken because the board "recognised this as a key priority and work is under way to fit out the ward and recruit additional staff".
He said: "The new Thurne ward (at Hellesdon) will provide a short-stay assessment ward to triage patients who may need admission or input from our community teams."
The ward, due to reopen in January/February next year, may help cut the number of patients sent to other parts of England, due to bed shortages.
In November, the BBC revealed the number had leapt up to 50, with patients sent as far afield as Darlington, Harrogate, Brighton, Woking and Nottingham.
In June, Health Secretary Jeremy Hunt criticised the "unacceptable" distances NSFT patients had to travel.
The NSFT has to make £40m of cuts by 2018 and this year is facing an overspend of £2m.