Black Friday: Social media reflects shopping chaos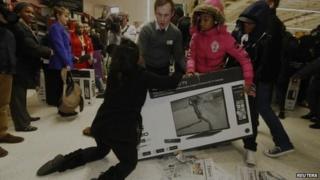 As thousands of shoppers compete for Black Friday offers, social media has been reflecting the chaos seen across England.
In Asda, Wembley, Kadhim Shubber from the Financial Times tweeted a video of a woman who ended up on the floor as shoppers competed for a television.
At the same supermarket, the BBC's Zoe Conway tweeted a picture of a woman on her knees with the words: "Customers knocked to the ground in the rush at Asda Wembley #BlackFriday."
Police have been called to more than 10 supermarkets following crowd surges.
A Tesco in Trafford, Greater Manchester, closed shortly after footage was filmed of disruption as people queued.
It was not just the police who were called to deal with shoppers, the North West Ambulance Service tweeted: "Called out to Chester Road, Stretford this morning. Female with head injury after being hit with a television. Stay safe!."
Sgt Paul Marshall, from the Metropolitan Police, reminded shoppers on Twitter they could be arrested: "Even on #BlackFriday shoving people to the floor so you can get £20 off a Coffee Maker is still an assault."
At other retailers, a calmer scene of lengthy queues of bargain hunters was seen, with Sarah Butler tweeting that a "very British queue" was seen at one Asda store.
Stock flew off the shelves with Bryan Roberts tweeting that a "massive pile" of televisions had been taken from an aisle within six minutes in one supermarket.
But, there was some criticism on social media of those trying to grab a bargain. Bradley Clarke tweeted: "I've woken up to Black Friday carnage. What's actually wrong with people? People have no shame. #smh #BlackFriday #sales"
While Stu tweeted: "Having read more & more about the chaos of this #BlackFriday I'm more & more convinced it shld be banned. Disgusting scenes. #NotBritish"
Despite the chaos some happy shoppers tweeted they had managed to take home a bargain.
Kinia, from Wallasey, tweeted: "I wouldn't buy something I don't need on #BlackFriday but I got a 200ml perfume for £40 instead of £75! Bargain #loosewomen @loosewomen".
Other shoppers had managed to avoid the chaos, Grace Billingham tweeted: "Don't know where people have been shopping but it's been bliss for me! Got myself a bargain or 2 with no fights or ques 👍 #BlackFriday"
While others decided to avoid the chaos and buy online, such as Paul Ferguson who tweeted: "Not even gotten out of bed yet and I've already bought an iPad... #BlackFriday"