Dartford Crossing disruption as payments change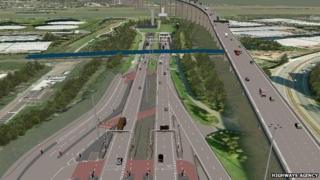 Motorists crossing between Kent and Essex face disruption to their journeys as a new charging system is introduced.
The payment system at the Dartford Crossing comes into force at 06:00 BST on Sunday.
The current 27-lane system will be replaced by four expressways in each direction and lanes to help turn away vehicles unsuitable for the tunnels.
Motorists face diversions through London on Saturday and Sunday as the crossings are closed.
The last cash payment will be taken at the crossing at 22:00 GMT.
The new Dart Charge will see barriers removed and motorists charged via number plate recognition cameras.
Drivers will be able to pay online, by SMS text message or by phone.
The Highways Agency has details of how to pay on its website.
Closures and diversions
The Dartford Crossing consists of the Queen Elizabeth II Bridge for traffic heading south from Essex to Kent, and two tunnels for motorists going north between Kent and Essex.
The tunnels will be closed from 23:00 GMT until 06:00 on Sunday while work is carried out. Traffic being diverted off the M25 at junction two, via the A2, Blackwall Tunnel and A13 will rejoin the M25 at junction 30.
On Sunday night, the QEII bridge will be closed from 23:30 until 05:30 on Monday will traffic being diverted the opposite way along the diversion route.
From 05:30 on Monday there will be a temporary road layout at the toll booths.
"Traffic will continue to travel through the existing barriers, operating in 'nodding mode' to retain tunnel safety control," a Highways Agency spokesman said.
Charges for cars will go up from £2 to £2.50 from Sunday but drivers using a pre-pay account will save up to one third.
An average of more than 140,000 vehicles use the River Thames crossing every day.