The hidden lives of those who care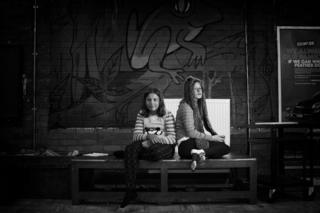 While nobody sets out to be an unpaid carer, it is a job more than six million people currently perform, according to the 2011 Census. This hidden workforce, thought to save the economy £119bn a year, is drawn from all ages and backgrounds.
Here are a few of their stories.
---
Gill
"You'll be listening to the radio on a Friday and somebody will say 'hey, it's nearly the weekend' or 'the weekend's nearly here'," says Gill West, who is a full time carer for her father George. "And? That makes absolutely no difference to carers. Carers don't have weekends."
George, 86, has Alzheimer's Disease and vascular dementia. He and Gill live in Harrow, north-west London.
In the three-and-a-half years that Gill - previously a human resources project consultant - has cared for her father, she has had just 10 days off.
"I now have a very different life," she says. "It is tough and it is difficult.
"When you meet up with your 'normal' friends you realise they are all living 'normally' - they might be talking about a promotion or a holiday or a new purchase. My whole world is caring.
"When you meet with other carers you can have a laugh about the things that happen in our daily lives."
As well as setting up a number of coffee mornings for carers, Gill, using her HR skills, has also developed her own courses to help new carers.
"I felt lost and isolated when I started out on my caring journey and wanted to help others, something positive to make my journey more worthwhile."
---
Rachel and Anjeli
Rachel and Anjeli Diack's mother has multiple sclerosis.
"Our dad (Trevor) does most of the caring", says Anjeli, 12, of King's Lynn, Norfolk. "But he works full time and we are needed to help out.
"In the last six months we have done more and more caring for mum and also lots more cleaning up and tidying up in the house because mum can't do things like that anymore.
"We help with her medication too, which is sometimes difficult to get right with all the different tablets she needs to take every day."
---
Shivakuru and Meenadchyammah
Shivakuru Selvathurai removes his spectacles to wipe the tears from his eyes. A Tamil refugee, he has been describing the horrors of the Sri Lankan civil war he witnessed first hand.
He, his wife Meenadchyammah and their daughter Anutha fled in 2001. They lived first in Liverpool and then in Harrow.
Shivakuru, 70, knows better than most the polarities of violence and kindness of which human beings are capable. Anutha, 37, has profound learning difficulties and needs round-the-clock care.
Yet Anutha's considerable needs are dwarfed by Shivakuru and Meenadchyammah's need to give. Not just to their daughter, but to the wider community.
"We have needed so much help," he says, "with our housing problems, language difficulties with the authorities, getting the right support from health service providers and money advice for our daughter who has some intensive and pressing needs.
"We are so very grateful to the UK Government and the British people generally."
Shivakuru has been a residents group champion, he volunteers for the NHS, the Royal British Legion, the Army Benevolent Fund and other charities. He is a multiple recipient of the Harrow Heroes Volunteer Award.
Why does he do it? The answer, he says, is that when he and his family were in desperate need, the UK provided them with sanctuary. His role now, he says, is to give something back.
---
Ronnie and Roger
Ronnie Lewis struggles to speak. "Some days I can't stop crying," she says.
Before her first severe stroke a decade ago, Ronnie, who lives beside a busy carriageway in west Norfolk, was an avid artist.
She still has her bright and airy studio, the walls lined with box upon box of arts and crafts materiel. But now even the simplest of tasks - such as gluing small feathers to a piece of paper - takes enormous effort.
"And some days I'm so tired I cannot get out of bed."
Two further strokes followed that first one 10 years ago. Her husband, Roger, a former publican, is her carer.
"There is not much time for anything besides being a carer," he says. "I do like to potter around our garden and I still nurture the idea of doing some more wine-making again one day."
---
Mukesh
"For me, being a carer is a blessing," says 49-year-old Mukesh Maroo.
Mukesh arrived in the UK from Kenya at the age of 10. While his late father ran a successful business in the UK, he believes the "shock" of emigrating - the "longing for home" and a sense of "isolation" - had a profound and lasting effect on his mother, for whom he is a primary carer.
In the aftermath of major knee surgery, Mukesh, himself a successful businessman, now finds himself both a carer and a recipient of care.
Mukesh, who lives in Harrow, says caring brings people back to fundamental needs - of loving, being loved, of giving and asking for the help of others.
"Too many people are almost 'cocooned' from each other - what we all need to again do is switch on our ability to care, by lessening our suspicions of each other," he says.
---
Jackie
For most of us, booking a holiday has become a simple series of steps, clicking boxes on a website and entering payment details.
Not so for Jackie Haverson, who lives with her husband and two disabled daughters in King's Lynn.
One daughter has epilepsy and dyspraxia, the other attention deficit disorder.
"When we book a hotel abroad we have to check what type of lights they use (because some can trigger an epileptic fit), where the nearest hospital is, how we might get to that hospital if we need it, how busy it is, what disabled facilities they have and so on," she says.
"We have to plan everything strategically and do it so far ahead. But we do it because we want our girls to enjoy their childhood."
A few weeks ago, Jackie and her husband went out for their first drink together in about four years. After half an hour, the babysitter - who knows the daughters well - found she could not cope with their needs.
"We didn't even finish our drinks."