London to Norwich line: Upgrade will 'not disrupt commuters'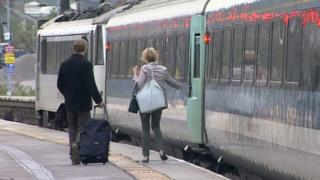 New rail tracks are to be laid on the line between Norwich and London as users campaign to cut journey times from two hours to 90 minutes.
Network Rail has also pledged this work will not disrupt commuter travel.
It will be carried out on Saturdays and Sunday nights and in the late evening on weekdays to avoid the peak periods.
Overhead lines, track and signalling is also to be upgraded and Network Rail has already committed £170m to these projects with more spending up to 2019.
East Anglia Rail Taskforce is working to identify how journeys through Norfolk, Suffolk and Essex can be cut from two hours to 90 minutes.
Transport Minister Patrick McLoughlin has pledged government support for planned improvements through the next franchising process in 2016.
The current franchise holder Abellio Greater Anglia said it was committed to a £30m investment to upgrade and increase the number of carriages on the line.
Managing director Jamie Burles said: "The positive momentum will start to really gather pace early in the New Year as our major refurbishment programme for the current intercity trains gets under way."
Network Rail has invested £42m in a machine that scoops up the rock ballast that supports the tracks and replaces it with new material.
Richard Schofield, Network Rail route managing director, said: "This essential upgrade is the railway's equivalent of resurfacing a busy road."
An upgrade that would normally take up to 12 years can be accomplished in about two, he said.
"The Great Eastern Main Line is a vital economic artery for East Anglia and government backing is a huge boost that will help to pave the way for better, faster rail services."