Hull's new biomass fuel plant for Drax power station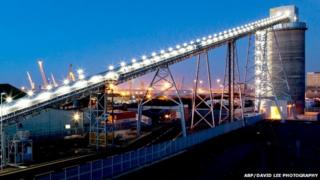 A biomass fuel storage depot to hold wooden pellets for a new power station has opened at an East Yorkshire port.
One million tonnes of pellets will pass through the 164-ft (50m) tall silo at Hull's King George Dock each year.
The silo stores 1,800 tonnes of the fuel which will be loaded on to trains for delivery to Drax power station in North Yorkshire.
It is the first part of a £150m investment in biomass handling schemes at ports on the Humber estuary.
The pellets are made of forestry residue from trees felled in the United States and Canada.
The automated silo system can load up to 30 rail wagons with 1,500 tonnes of biomass in 45 minutes, according to engineers.
It is designed to load up to four trains a day.
'Impressive feat'
John Fitzgerald, of Associated British Ports (ABP) the site's owners, said the facility had created 40 new, full-time jobs as well as jobs during its construction.
A plan to convert three of Drax's six current coal-fired generating units to biomass by 2016 was announced in 2013 by the plant's owners.
Burning biomass fuel sources such as wood, sunflower husks or animal faeces is part of the government's plans to get 15% of the UK's energy from renewable sources by 2020.
Philip Hudson, of Drax, said the Hull facility was "an impressive feat of engineering."
Work at the biomass storage plant was started in April 2013 by Hull-based engineers Spencer Group and has now been handed over to ABP.