Levi-Blu Cassin death: Murder accused father 'started CPR'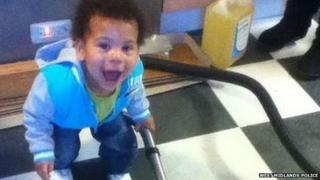 A father accused of murdering his two-year-old son said he dialled 999 and started resuscitation after finding him cold with his eyes half closed.
Levi-Blu Cassin was taken to hospital from his home in Castle Bromwich in the West Midlands on 20 February 2013.
His parents Danielle Cassin and Mark Piper deny murder, neglect and causing or allowing the death of a child.
Birmingham Crown Court was previously told Levi died from "punches, stamps, or impact from a weapon".
On Friday, the court was told Mr Piper knew his son had been sick the day before but thought he may have a bug.
'Pull yourself together'
In transcripts of police interviews read to the jury, Mr Piper was told that Levi suffered had "horrific internal injuries" while he was in the care of him and Ms Cassin.
But Mr Piper denied injuring his son in any way, arguing that it must have happened while he was away from their home.
He also denied arguing with Ms Cassin outside Heartlands Hospital, where their son was taken in an ambulance.
Put to him that he grabbed Ms Cassin's lapels and was overheard by a paramedic saying "pull yourself together", Mr Piper denied it and said he had been comforting her.
He went on to describe Ms Cassin as "a wicked mother, a brilliant mother".
In the interviews, Mr Piper admitted he sometimes smoked small amounts of cannabis and said his partner used crack cocaine and heroin up until Levi's death.
The trial continues.