Review of 2014: England's top unusual stories of the year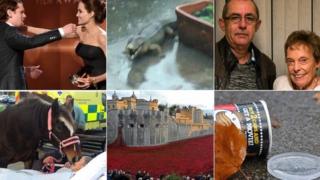 As 2014 draws to a close, we look at some of the most unusual England stories which made the headlines over the past year.
They included a cancer patient saying her final goodbye to her favourite horse and a couple "fined" for posting a bad review on Trip Advisor.
It was also a year when an "escaped crocodile", a chocolate teapot and a Hollywood star baffled by an East Midlands' colloquialism hit the headlines.
---
Banksy anti-immigration bird mural destroyed
The artwork showed a group of four pigeons holding signs including "Go Back to Africa", while a more exotic-looking bird looked on.
The mural in Clacton-on-Sea, Essex, was destroyed following a complaint the it was "offensive" and "racist".
Local authority Tendring District Council, which removed the piece, said it did not know whether it was created by Banksy, whose work often makes political statements.
However, the artist, who chooses to remain anonymous, posted pictures of the work on his website.
---
Cancer patient dies after farewell to horse at hospital
Shelia Marsh was granted her final wish by hospital staff who arranged a visit from two of her horses.
Nurses wheeled Mrs Marsh in her bed into the car park, where her favourite horse Bronwen, who she had looked after for the previous 25 years and another horse greeted her.
The hospital said the 77-year-old, unable to speak properly due to illness, "gently called" Bronwen, who then nuzzled her cheek.
Hospital staff and relatives shed tears as she said farewell to her horses.
Mrs Marsh died the following day.
---
Trip Advisor couple 'fined' £100 by hotel for bad review
Tony and Jan Jenkinson posted a negative comment which described the hotel as a "rotten stinking hovel" on website Trip Advisor, after being unimpressed with the one-night they spent at the Broadway Hotel, in Blackpool.
They later found a £100 charge to their credit card.
At the time, the hotel said its policy was to charge for "bad" reviews but later said it would refund the money and vowed to improve the facilities.
The hotel has since cancelled its policy after Blackpool Trading Standards warned it could be illegal.
---
Chocolate teapot proves useful
The York-based chocolatiers were challenged to prove the sarcastic phrase "as useful as a chocolate teapot" wrong.
They created a hand-crafted teapot made of dark chocolate, containing 65% cocoa solids.
It held boiling water for two minutes to make a drinkable brew, albeit with "a hint of chocolate".
---
'Escaped crocodile' was inflatable toy, police discover
A woman called the police after she thought a 3ft (1m) crocodile was in her garden in Plymouth, Devon.
Police arrived with snare poles, nets and riot shields and alerted a team of wildlife experts from Dartmoor Zoo.
The officers threw water over the "crocodile" from a safe distance and approached when it did not move. It was only then, on closer inspection, they realised it was an inflatable toy.
It remains unclear how it ended up in the woman's garden but it was removed and placed in police custody.
---
Dropped Pringles lid costs man almost £500
Gareth Daniel was seen dropping the snack tub lid in Bristol by a police community support officer.
Bristol Magistrates' Court heard he failed to pay a £75 fixed penalty notice, so a final warning was sent. He was taken to court and the fine was raised to £200.
He was also ordered to pay costs totalling £298.75.
---
Angelina Jolie baffles Hollywood with 'ay up me duck'
At the Hollywood Film Awards in November, Angelina Jolie greeted Derby actor Jack O'Connell with the East Midlands phrase "ay up me duck".
Some of the audience was left confused, while some television viewers tweeted in delight and others did not understand why she was talking about a duck.
"Ay up" is a greeting typically used in the North of England and the Midlands instead of hello.
"Me" means "my", while "duck" is an affectionate term for another person.
---
Tower of London poppies: Final poppy is 'planted'
Millions of people visited the artwork at the famous London landmark.
It included 888,246 hand-made poppies - each representing a British and colonial soldier who died during World War One.
Berkshire cadet Harry Hayes, 13 "planted" the final poppy.
Following the display, every single poppy was sold for £25 each, with the money raised going to six different service charities.
---
Lancasters in historic tandem flight
In August, two World War Two Lancasters flew together for the first time in 50 years, in Lincolnshire.
The British aircraft was joined by a Canadian Lancaster, known as Vera, which is the only other airworthy example in the world.
They were in the air for just under an hour but were involved in other tandem flights across the country.