F1 Marussia: Folded team's assets auctioned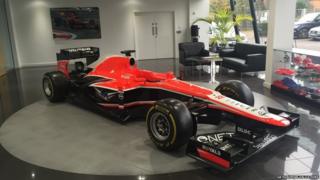 The assets of collapsed F1 team Marussia are to be sold at auction.
The Banbury-based team ceased trading in early November, nearly two weeks after being placed in administration, making about 200 staff redundant.
Administrators FRP Advisory confirmed the Banbury-based team had folded after failed efforts to find a buyer.
Among the items being sold off in an online auction are race and show cars, trailers, testing gear and office equipment.
While the 2013 Marussia race cars are part of the sale, their engines are not included.
Auctioneers have not put a reserve price on any of the items.
Equipment from the team's hi-tech testing unit is going under the hammer, along with car components, spare parts and pit equipment.
A steering wheel, tyres, a purpose-built race simulator and drivers' suits are also available.
Marussia became the second F1 team to be placed in administration this autumn after the Caterham team also folded in October.
The auction takes the form of a live webcast and online sales and runs from 16 to 18 December and on 21 January.
The Marussia team had hoped to return for the final race of the season after missing the US and Brazilian Grand Prix.
Their driver Jules Bianchi suffered severe head injuries in a crash at the Japanese GP earlier in October.
Marussia entered the sport under the Virgin Racing name in 2010. A change to the cars' chassis was needed because the fuel tank was too small and the team finished last in the constructors' championship.
The team rebranded as Marussia in 2012 and managed their first top-10 finish in the constructors' championship in 2013.
Marussia's final race was at the Russian Grand Prix on 12 October.