HMRC raid Birkenhead and Ashford diesel laundering plants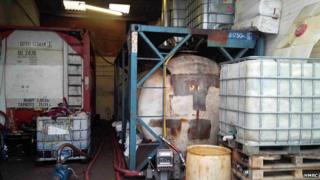 Two diesel laundering plants, capable of producing up to 26,000 gallons (120,000 litres) of illegal fuel a day, have been closed down by authorities.
The HM Revenues and Customs (HMRC) raids on Merseyside and in Kent saw fuel, equipment and chemicals seized.
The plants were being used to remove the government marker from the fuel and thus allow users to evade paying tax.
The operation saw eight men arrested in Essex, Lancashire, Merseyside, Staffordshire and the West Midlands.
HMRC officers, along with Merseyside Police, searched premises in Wirral and Liverpool on 4 December and took more than 2,000 gallons (9,000 litres) from a site in Birkenhead.
A further 2,600 gallons (12,000 litres) were removed from a site in Ashford, Kent, in a subsequent raid, which also saw the seizure of a fuel tanker.
The operation involved more than 100 HMRC officers, assisted across the country by local police forces.
Two men aged 41 and 61 from Wirral, a 39-year-old from Liverpool, a 53-year-old from Birmingham, a Basildon man aged 50, a 38-year-old from Stoke and two men aged 37 and 45 from Accrington were arrested.
They have all since been bailed pending further inquiries.
The HMRC said laundering diesel often leads to waste being "dumped indiscriminately in the countryside or next to the road with no care for the pollution it can cause".
"Typically the waste is dumped in agricultural areas or forests, chosen for their remoteness to avoid detection," a spokeswoman said.
She added that laundered fuel was "filtered through chemicals or acids to remove the government marker".
"The chemicals and acids remain in the fuel and damage fuel pumps in diesel cars."