Claire Tiltman: Colin Ash-Smith guilty of 1993 murder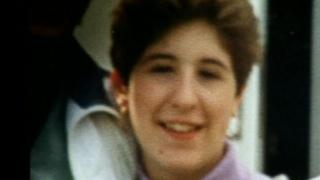 A knife-obsessed loner has been found guilty of murdering 16-year-old Claire Tiltman in Kent in 1993.
Colin Ash-Smith stabbed her repeatedly in an alleyway in Greenhithe as she was on her way to visit a friend.
Ash-Smith, 46, was already serving three life sentences for attacks on two women, near to where Claire was killed.
Claire, who was studying for her GCSEs at Dartford Grammar School for Girls, was murdered four days after her 16th birthday.
Jurors at the Inner London Crown Court took three hours to reach their verdict. Ash-Smith will be sentenced on Friday.
Thanking them for their "conspicuous responsibility and consideration", judge Mr Justice Sweeney said: "This case has obviously been a very demanding case for any jury to have to sit upon.
"The crimes that you have had to consider are appalling."
'Warped pleasure'
He warned Ash-Smith he faced a life term.
Ash-Smith was first questioned as a suspect by detectives in connection with the schoolgirl's murder in 1995.
But he was only charged earlier this year, the day he was due to be considered for release by the parole board.
Brian Altman QC, prosecuting, said the former milkman got a "warped pleasure" from the "savage" attack on Claire.
"Her assailant had stabbed her no less than nine times in what can only be described as a frenzied and remorseless attack by someone having nothing less than the intention of killing her," he said.
"This was a killing for the sake of killing, carried out by a ruthless and predatory armed killer, who attacked his chosen victim rapidly and stealthily, allowing her no time for defence or escape."
Detectives discovered "assault plans" written by Ash-Smith in which he told of his "psycho state of mind" and plans to attack women.
A self-confessed "animal", he was plagued by a hatred of women who he felt "humiliated" him.
Speaking in an eerily calm voice as he took to the witness box, Ash-Smith told how he went on midnight walks armed with knives hunting for victims.
But he denied attacking Claire, his lawyers claiming convicted killer Robert Napper, dubbed the Plumstead Ripper, could have killed her.
'Ruthless, dangerous man'
Ash-Smith attended Claire's funeral with his Labour councillor parents wearing the same beige jacket he wore the night of the murder.
Claire's parents, Linda and Cliff, died before her killer could be brought to justice.
Her friend, Emma Edwards, said: "Her parents strived to get justice for her for so long, and although they are not here to see it in person they never gave up.
"To finally have seen justice through is a huge relief.
"We wanted to make sure her memory lived on, and she wasn't forgotten."
Jaswant Narwal, chief Crown prosecutor for the south east, said: "Colin Ash-Smith is a ruthless and dangerous man with a history of committing violent offences against women.
"He believed that he could evade justice for more than 20 years, but he was wrong.
"For all these years he thought he could hide behind the lack of forensic, identification or other direct evidence linking him to the murder."
School tie found
He said Ash-Smith's "arc of offending" - the increasing ferocity and severity of his attacks - had been central to the Crown Prosecution Service (CPS) case, one of the most complex it had dealt with in recent years.
Ash-Smith was arrested just hours after attacking a 21-year-old woman with a knife in Greenhithe in October 1995.
In a search of his Ford Capri half a school tie was found which had been used in the rape, kidnap and attempted murder of a 27-year-old woman in Swanscombe in December 1988.
---
Analysis: Rebecca Williams, BBC South East home affairs reporter
This was one of Kent Police's longest-running unsolved murder cases and we've heard throughout how Colin Ash-Smith had written assault plans for attacks on various women.
He was known was to the Tiltman family and attended Claire's funeral.
As the verdict was read out Ash-Smith showed absolutely no emotion.
---
Asked why he attacked the woman, Ash-Smith said: "I wanted to feel empowered, that I had control over someone. That I wasn't a doormat."
Officers investigating Claire's murder found that while in jail for the 1988 and 1995 attacks, Ash-Smith befriended a fellow prisoner and confessed to attacking someone he saw using a zebra crossing.
The prisoner assumed Ash-Smith was confessing to one of the crimes he was already convicted of.
But police established that while there was no such crossing near the scenes of the two attacks, there was one just a few hundred yards from where Claire was killed.
'Beautiful, funny and ambitious'
After a 21-year investigation into Claire's death, Ash-Smith was arrested in February and charged with her murder.
Det Supt Rob Vinson from Kent Police said: "Every single one of the Kent Police officers who have worked on this case over the last two decades have refused to allow Claire's killer to go unaccounted for and escape justice.
"The investigation team has meticulously built this case over a number of years."
David Withers, deputy senior investigating officer, read a family statement outside court.
"Claire's parents went to their graves convinced that Ash-Smith was Claire's killer and with today's verdict may they finally rest in peace," it said.
In a statement, the Justice for Claire group said: "Today we finally know who murdered her. What we will never understand is why.
"Claire, or Tilt as we knew her, was unique. She drew people to her. She was beautiful, funny and ambitious with an amazing sense of humour which will always live in our memories.
"Today we want to reclaim our friend and remember her for the wonderful person she was rather than what happened to her."