Christmas floods: One year on since wettest winter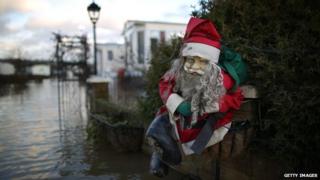 One year ago a severe storm hit much of southern England, causing flooding which ruined Christmas for many families. Now many of them have still not recovered from the wettest winter on record.
While millions of people opened presents and gorged themselves on Christmas dinner last year, the fire service was rescuing Tim and June Chapman from the top floor of their flooded home.
The water destroyed the ground floor of their house in Yalding, Kent, and was almost 5ft (1.5m) deep on Christmas Day morning.
"The water was lapping the eighth or ninth step of the stairs when we woke," he said. "We had no power and had a glass of lemonade each and some biscuits, which were a Christmas present."
Mr Chapman, 58, was "in a state of shock" when he was rescued by Kent Fire and Rescue Service at about 13:30 GMT. "People at the top end of Yalding fed us a Christmas dinner, which was lovely."
The couple lived in a flat until October, when they moved back into temporary accommodation in Yalding - which they have since decorated ready for Christmas.
The couple's home is being rebuilt with a third storey in case it gets flooded again. They plan to live on the top two floors and are spending their life savings on the project.
"We won't leave Yalding, we really love it here. Once you're here you don't want to go.
"The village has been fantastic. The people have been fantastic and we have had great experiences other than the horror on that night."
Some 130 miles away, in Ferndown, Dorset, another family's Christmas was being ruined by floods last year.
"We woke up on Christmas Eve 2013 and all we could hear was 'glug, glug, glug'," says Sandie Fordham, 66. The flood water outside her mobile home was about 4ft (1.2m) deep.
"My sister-in-law lives next door and we had to wade around. I was hanging on to David [her husband] and the water was up past my chest.
"I was absolutely frozen and before we knew where we were the firemen were knocking on the door saying, 'come on we're getting you out'.
"We watched the water going up, and up, and up - it reached window of the front door and just started rushing in.
"I was in tears, I was so upset."
Mrs Fordham said family photographs and precious books handed down through the family had been ruined. The couple have still not returned to their home and plan to spend Christmas with their family.
They hope of move back in January and until then are living in a flat - "as good as it could be but it's not home".
Christmas storms 2013
More than 600 properties were flooded as storms swept across south-east England on Christmas Eve
Intensive rainfall was accompanied by strong, onshore winds and large waves, causing flooding to many coastal communities across the country
On Christmas Day, three severe flood warnings and 131 flood warnings were in place
Thousands of homes were left without power, mainly in southern England, after flooding and storm damage to power lines
It was the wettest December in south-east England since 1978 with some locations receiving three times the average December rainfall
December to February was the wettest winter in nearly 250 years
Source: Environment Agency/BBC News
Just days before Christmas Day, Colin and Sally Squair's home on the Somerset Levels was flooded with 3 in (8 cm) of water. It was just the start of their troubles - their home would be flooded twice more before the winter was over.
Their cottage, in Aller, was flooded a second time before Christmas but they remained there and cleaned up the mess.
The third flood, at the beginning of January, was much worse though and they were forced out of their home.
Initially they tried to live upstairs, expecting the water to go down as it had before, but the cottage remained flooded for three weeks.
They have since been living in temporary accommodation.
Mrs Squair, 76, said: "It was so bad, even our three-piece suite ended up with blue mould all over it all the way up the side."
Mr Squair, 77, said: "It's just living your life and waiting for things to happen, they can't do it any quicker than they are doing it."
Their home was uninsured and has been repaired with help from local charities. Mr Squair said the support was "indescribable, absolutely marvellous".
"I cannot give them enough compliments as without them I don't know where we would be," he added.
The couple have received lots of donated items including a sofa, fridge, freezer, dishwasher and tiles for the entire ground floor of the house.
The couple moved back into their home on 23 December and said they were looking forward to a "normal life again" and "peace and quiet", something most flood victims from last winter will also be hoping for.