World War One centenary wood planting starts in Epsom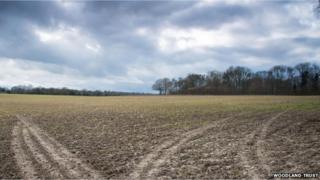 The first of more than 200,000 trees to mark 100 years since the start of World War One is being planted in England.
Four centenary woods are planned - one each in England, Wales, Scotland and Northern Ireland.
David Appleton, of Diss in Norfolk, will plant the first tree at the 640-acre English site at Langley Vale, Epsom, Surrey, later on Friday.
His four great-uncles, George, Charles, Henry and Frances James, were killed in action between 1915 and 1916.
Mr Appleton said: "I think the new centenary woods are as fitting a means of commemoration as can be imagined: practical, beneficial and long-term sustainable.
"A wood is the polar opposite of war - a beautiful, peaceful oasis of calm and life which throws into sharp contrast all that war brings."
'Fitting legacy'
The English centenary wood is next to Epsom Downs Racecourse, where Lord Kitchener inspected thousands of British troops waiting to be deployed on 22 January 1915.
More than 200,000 trees, fields of poppies and other wildflowers will be planted at Langley Vale over the next four years.
The site will be bigger than the Olympic Park and link up pockets of existing woodland when it is completed.
Tree planting began at Dreghorn Woods in the Pentland Hills, near Edinburgh, and Brackfield Wood, County Londonderry, at the end of October and beginning of November.
The Woodland Trust said on Friday that it had finally secured a site for the Welsh centenary woodland at Coed Ffos Las, Carmarthenshire.
Planting is set to start in March next year.
The trust said the trees would "transform the landscape into rich, vibrant and flourishing woodland", and prove to be a fitting legacy for those who lost their lives in the 1914-18 war.
Woodland Trust chief executive Beccy Speight added: "All those who made sacrifices in the First World War did so in the hope of securing a brighter future for the next generation.
"In this centenary year, we can't think of a better way to give thanks for this than creating thousands of acres of life-giving native woodland, as a legacy for the whole country."
The tree-planting project is set to finish in autumn 2018.