WW1 Christmas truce marked in army football teams match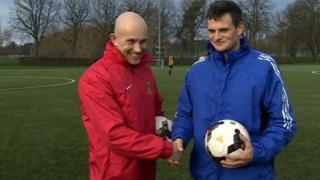 The British and German army football teams have played a match to commemorate 100 years since the World War One Christmas truce.
Soldiers from both sides shared an impromptu ceasefire in Ypres, Belgium, on Christmas Day 1914.
Graham Brookland of the Army FA said the match would "commemorate the occasion in an extremely good spirit".
The game, played at Aldershot Town FC in Hampshire, ended in a 1-0 win for the British Army.
Several thousand events have been held across the UK to mark the Christmas truce football match as part of Football Remembers Week.
Every team in the Premier League and Football League have marked the centenary of World War One at recent matches.
The famous "Christmas truce" of 1914
Late on Christmas Eve 1914, men of the British Expeditionary Force heard the Germans singing carols and patriotic songs and saw lanterns and small fir trees along their trenches.
Messages began to be shouted between the trenches. The following day, British and German soldiers met in No Man's Land and exchanged gifts, took photographs and some played football. They also buried casualties and repaired trenches and dugouts
Some officers viewed the truce as a chance to improve living conditions in the trenches, while others worried that such unwarlike behaviour would undermine fighting spirit.
The high commands on both sides took measures to ensure such fraternisation would not happen again, and the 1914 Christmas Truce remained a unique event on the Western Front.
Source: Imperial War Museum