Money spinners: Making a date with charity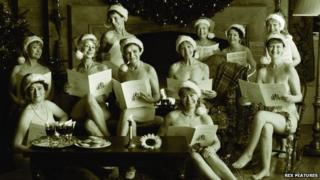 When members of the Rylstone Women's Institute in North Yorkshire bared all to raise money for leukaemia research in 1999 they set something of a trend.
Since then, tastefully concealed nakedness has become a popular feature of charity calendars.
However, even if stripping off is not on the menu, many charities rely on the publications to boost their coffers.
The Institute of Fundraising says calendars are an easy way for people to give to their favourite causes.
---
The one that started it all
In 1999, the women of Rylstone and District Women's Institute (WI), based near Skipton, North Yorkshire, shook off their traditional image and posed naked for a calendar, all in the name of charity.
The idea came about when the husband of one of the women, Angela Baker, 57, died from leukaemia.
They expected to sell a few hundred copies but instead sold more than 300,000 and raised £578,000 for Leukaemia Research.
The story and women were immortalised in the 2003 film Calendar Girls, which starred Dame Helen Mirren and Julie Walters.
Men are now as likely as women to strip off for a good cause. This year, the Newcastle University Boat Club rowers posed for a calendar, with proceeds going to Prostate Cancer UK.
---
The cute ones
Animal charities such as the RSPCA and Battersea Dogs home rely heavily on the "aaaaah" factor, with pictures aimed at tugging at the heart strings of animal lovers.
The Retired Greyhound Trust invites owners to submit photos and the winning entries, including this snap of Patrick and Gabby from Chris and Lucy Reynolds, were chosen from more than 2,000 entries.
It said in the past decade the calendar had grown into an important annual fundraiser, with proceeds going towards the kennelling, food and veterinary bills for hundreds of greyhounds awaiting homes.
---
The quirky ones
After its pitch was damaged by flooding in 2012, Threlkeld Cricket Club came up with a new idea to raise money for repairs.
It produced a calendar featuring pictures of matches played under extreme conditions - on a frozen tarn, on the back of a steam train, under a lake and in a slate mine.
The calendar even featured a shot of cricketers trying to hit a six in the depths of the River Derwent.
Thousands were sold and the money raised meant games could resume at the home ground during the summer's season.
---
The bizarre ones
A professional makeover transformed a group of County Durham men into the "Stanley Sirens" for Bright Red, a North East charity working to improve the lives and treatment of people dealing with blood cancer.
All the "Calendar Guys" who modelled for the burlesque photo shoot are involved with Bright Red.
Neil Rayne, who came up with the idea, said: "I was diagnosed with Hodgkin's lymphoma in Sept 2008 and had the fight of my life for 10 months. Luckily I was told the brilliant news on 23 August 2009 that there was no cancer left in my body.
"I can't thank all the other lads enough for what they are putting themselves through in aid of charity".
The Institute of Fundraising said: "Charities are always looking at new ways to engage supporters and, as many people choose to give over Christmas time, items such as calendars provide an easy way for people to give to their favourite causes."
---
The niche ones
Despite the popularity of charity calendars, they do not feature in the best selling list, which tend to be dominated by celebrities and chart stars.
This year is no exception, with Disney's Frozen toppling One Direction from the number one slot they had held for the past three years, according to official licensed calendar firm Danilo.
Perhaps the "Dull Men's Club" calendar, featuring John Richards from the Apostrophe Protection Society as Mr October, will be a contender in the future.