Ivars Mezals and Juris Valujevs guilty of illegal gangmaster charges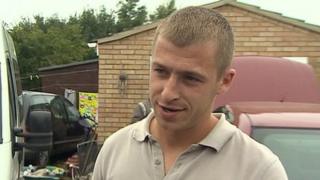 Two men who exploited migrant workers into "back-breaking" work for less than £1 a week have been found guilty of acting as illegal gangmasters.
Ivars Mezals, 28, from Wisbech, Cambridgeshire, and Juris Valujevs, 36, from King's Lynn, Norfolk, used fear and debt to control people brought to the Fens from the Baltic States.
Blackfriars Crown Court heard the workers lived in cramped homes and some received death threats for owing money.
They will be sentenced on Friday.
The Latvian pair were arrested after raids led by Cambridgeshire Police in October 2013. They had carried out the offences since January 2009.
The BBC exposed them last September after a four-month investigation, which found dozens of workers from Latvia and Lithuania trapped in a widespread network of exploitation.
The jury was unable to reach verdicts against Valujevs, his wife Oksana, 33, and their friend Lauma Vankova, 26, all of whom were charged with conspiracy to help breach UK immigration law by arranging sham marriages. Mezals was found not guilty on the same charge.
During the nine-week trial, the court heard the workers travelled to the UK voluntarily to pick vegetables in the fields of Norfolk, Cambridgeshire and Lincolnshire.
They were promised regular and well-paid work, decent accommodation and the "hope of a better life", Gregory Perrins, prosecuting, said.
Instead they were forced to live in cramped and dilapidated homes, paid fines for "fanciful" reasons including smoking, and were threatened if they complained, he said.
'Modern-day slave drivers'
The jury heard workers who fell into debt were told "if you don't pay, your life will be ended like Alisa's (Dmitrijeva)" - the Latvian teenager found murdered on the Queen's Sandringham Estate in Norfolk in 2012.
One female worker was fined £100 a day when she was unable to work because her child was ill, the court heard.
Cambridgeshire Police said a further female witness stated Mezals suggested paying back debt by selling her organs because she did not drink or smoke.
Det Ch Insp Donna Wass, said: "Valujevs and Mezals ran an illegal operation that left many people in abject poverty and debt and a feeling there was no way out of their situation.
"They ruled through fear - playing on their reputations to ensure their workers stayed in line and did not seek outside help - and approached the exploitation of people as a business opportunity."
Paul Broadbent, chief executive of the Gangmasters Licensing Authority, said: "It is pleasing that the defendants in this case have been exposed as modern-day slave drivers and will now face punishment for their heinous crime."