Sussex racer takes second place in Scalextric world championship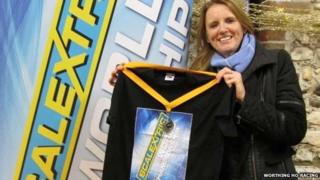 A woman from West Sussex has taken second place in the Scalextric World Championships after the final event of 2014 took place in Worthing.
Ann Bird from East Preston completed 10 laps of a 28ft (8.55m) circuit in 26.93 seconds.
Australian Peter Dimmers is now the official world champion with a time of 23.12 seconds.
More than 100 people competed in the final round of the championship on Saturday in Goring-By-Sea.
Most were from East and West Sussex, but one intrepid racer, Al Wood, travelled from Cambridge to take part.
The event, hosted by Worthing HO Racing the slot car club, decided the winner of the 2014 Scalextric World Championship, following similar rounds in Singapore, Barbados and Australia.
Champion Dimmers recorded his time in Australia.
Previous UK rounds were in Devon, Moray, Kent and at the Heritage Motor Museum in Warwickshire and Maldon Motor Show in Essex.
Six competitors at a time raced against each other using the same layout, the same 1/64th scale cars and the same controllers as the other championship events.
Co-founder of the club, Andy Player is an official adjudicator for Scalextric, which is based in Margate, Kent.