West Midlands Search & Rescue charity in winter kit appeal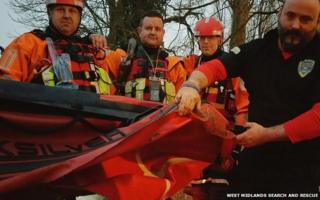 A crowdfunding appeal to raise £5,000 for "essential" winter kit has been started by a search and rescue charity.
West Midlands Search & Rescue (WMSAR), which is run by volunteers, supports the emergency services in Shropshire, Herefordshire and Worcestershire.
The charity said it was looking for money towards such items as waterproof warm jackets and a tent in the appeal which lasts until 2 February.
WMSAR has stations in Worcester and Telford.
The team has 30 volunteers, but said it needed funds to equip 10 other members who had just joined.
Last month the charity said one of its boats suffered "catastrophic damage" searching the River Severn in Shrewsbury for a missing man.
The damage on 29 November was believed to have been caused by submerged debris, WMSAR has said.