South West Ambulance Service 'on standby for major incident'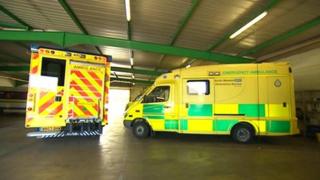 The ambulance service in South West England is close to declaring "major incident" status, bosses say.
The South Western Ambulance Service Foundation Trust said demand this weekend on its 999 and non-emergency 111 numbers had been "extremely high".
People facing a life-threatening emergency or needing urgent medical help should still call 999, the trust said.
Otherwise, patients should consider visiting a GP or seeing a pharmacist.
The service said it went on standby to declare a major incident - defined as something which may disrupt services or require special arrangements to be implemented by health staff - on Saturday.
Much of the increase in demand was believed to be down to the four-day Christmas holiday period from Thursday to Sunday, when other health providers such as GP surgeries were closed.
---
'Major incident' definition for local NHS organisations
"Any occurrence that presents serious threat to the health of the community, disruption to the service or causes (or is likely to cause) such numbers or types of casualties as to require special arrangements to be implemented by hospitals, ambulance trusts or other acute or community provider organisations."
Source: NHS England Commissioning Board
---
The service said it had been averaging 2,500 calls a day during the period, up about 20%. On Saturday, it received about 3,500 calls.
The move to major incident standby has allowed the trust to call in extra staff. It had also asked for support from the St John Ambulance and the Red Cross, it said.
However, people who phone 999 may not receive an emergency ambulance. They are being "triaged" by senior clinicians then given the most appropriate advice for their condition.
The 111 non-emergency number was also being overwhelmed, and calls were not being answered, the trust said.
It said: "If, when calling 111 with an urgent medical problem, you receive a message saying there is a technical failure and get disconnected, please retry.
"There is no technical failure, it is simply due to demand."
The trust covers Cornwall and the Isles of Scilly, Devon, Dorset, Gloucestershire, Somerset, Wiltshire, Bath, North Somerset, Bristol and South Gloucestershire.