Surrey caravan fire: Mother and two young children killed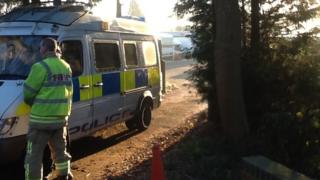 A woman and her two young children have died in a fire in a caravan near Lingfield, Surrey.
The blaze, which killed the 35-year-old mother and her children, aged one and six, broke out at The Plantation mobile home site in Newchapel overnight.
Her 35-year-old husband and their 10-year-old son were treated for burns.
Their son was taken to the East Surrey Hospital in Redhill and later discharged. A joint police and fire investigation has begun.
Ian Ray, assistant group commander of Surrey Fire and Rescue Service, said three crews were sent to a "fully developed fire" at the site on West Park Road at 01:37 GMT.
He said firefighters worked "extremely hard" to douse the flames but two children and their mother had died.
"Our thoughts are with the family and friends of those that are involved at this tragic time," he added.
Surrey Police said the scene would remain cordoned off while inquiries continued.
Police guards have been at entrances to the mobile home site, which is beside a busy main road.
The local authority, Tandridge District Council, said the site was used by members of the Showmen's Guild.
The guild seeks to "protect the interests of its members - travelling showmen who gain their livelihoods by attending funfairs," according to its website.
Guild president David Wallis said he knew of the family and that the man and woman had been married for "quite some time".
He said: "It's a terrible thing and all the members of the guild throughout the country send their condolences out to the family.
"What can you do when there are children involved?
"We are a travelling fairground community, a regulated body and very well organised and accepted throughout the country.
"We are quite a close community and the families living on the site are all very close and will be looking after those affected."
The Guild has a benevolent fund and two representatives had gone to the site to help in any way they could, he added.
Tandridge District Council said in a statement that it had "no role in the management of the site, which is in private ownership".
"We understand that the fire and police services are currently investigating the circumstances of the fire," it continued.
"The council has no direct involvement in this investigation but will assist if our services are required in any way."