Caravan fire deaths: Photographer held over drone use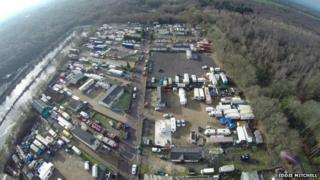 A freelance photographer plans to make a formal complaint after he was arrested while flying a drone near the site of a fatal caravan fire.
Eddie Mitchell was held as he attempted to get shots following the blaze in Newchapel, Surrey, which killed a mother and her two young children.
The 49-year-old claims he was detained for nearly five hours by officers.
Surrey Police said he was arrested following complaints his behaviour was "disrespectful and intrusive".
The photographer, who is approved by the Civil Aviation Authority (CAA) to fly Small Unmanned Aircraft (SUA), was held on suspicion of a breach of the peace and later released without charge.
'Snatch drone control'
He said he had permission from owner of the field to fly the £1,000 drone and plans to make a complaint to the Independent Police Complaints Commission (IPCC) and the CAA.
"I was well over 50 metres from any property. I just took off, it was a safe flight and it was within CAA guidelines.
"The drone was up for about five minutes and then the cops decided to snatch the controller from me and take control of the SUA."
He said their actions put passing aircraft and everyone nearby on the ground in "incredible danger".
"It could have flown off in any direction. They were passing the controller between themselves and eventually got it down with a thud."
'Deeply distressing incident'
The father-of-two, of Worthing, West Sussex, takes photos and shoots video for a number of media organisations including the BBC.
Det Ch Insp Antony Archibald said officers at scene of the Newchapel fire were responding to concerns "he was acting in a disrespectful and intrusive manner" during a "deeply distressing incident".
"At the time of the arrest, the main focus for officers and fire crew at the scene was to conclude the initial forensic investigation and to allow the dignified removal of the bodies of those who had sadly died."
The force said he was released once the "risk of the breach of the peace had ceased" and his drone was being returned.
The CAA has a list of regulations on their website, these include the rule that they may not be flown within 50 metres of people, vehicles or buildings.
Breaches can result in the operator being fined up to £5,000 and the CAA prosecuted two cases relating to unmanned aircraft in 2014.