Artists picked for south coast observatory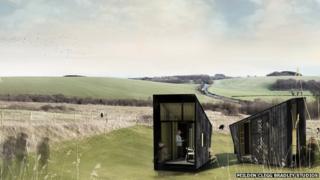 Twelve artists have been chosen to work in a observatory-style studio which will travel across southern England.
The pair of moveable structures feature an artist's workspace in one, while the other will remain open to the public.
More than 100 writers, sculptors, film makers and painters applied to work in the structure over two years.
The wooden shelters will spend six months in Winchester, Lymington, the South Dorset Ridgeway and the River Tamar in Devon and Cornwall.
The structures will open at the first location - The Winchester Science Centre - on 30 January.
Sitting on a metal frame with a turning mechanism similar to those used on a tank, the artist and the public will be able to turn the studios independently to see each other or change the view.
The studios will travel every six months to a new location fitted on to a flatbed lorry.
Each of the 12 artists chosen is being paid £4,800 for the two months they are in place, producing artworks to be displayed either inside or outside the observatories.
During their residency the artists will also hold school and community workshops give talks and work with universities.
The studios have been designed by four architecture graduates from London and Devon-based artist Edward Crumpton.
The design was chosen through an international competition run by the Winchester-based Space Placemaking and Urban Design (Spud) organisation, which attracted more than 50 entries,
The £50,000 project, which is a follow on from SPUD's Exbury Egg - a giant egg anchored on a Hampshire river - hopes to encourage public access to art.