Kemp's ridley turtle found on beach near Formby dies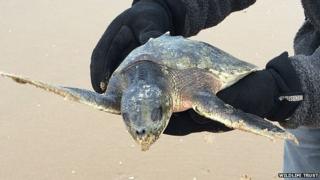 One of two rare turtles washed ashore in the North West, 5,000 miles (8,000 km) from home, has died.
The juvenile Kemp's ridley turtles were found on beaches near Formby, Merseyside, and Cumbria's Walney Island on 22 December.
The turtle found in Merseyside has now died but the other is on the mend and is being cared for at the Lake District Coast Aquarium in Maryport.
It is believed the reptiles are from the Gulf of Mexico.
If the surviving turtle continues to make good progress it will eventually be flown back to America.
Vicki Temple, vet at Millcroft Veterinary Group, said the temperature of its water tank was being increased slowly by one degree each day.
'Cold-stunned'
She said: "Because the turtle has cooled down slowly in different waters we have to warm up it up slowly. If you suddenly warm it up, toxins can be released into the body.
"There are currently only around 1,000 breeding females of their population - they are critically endangered - so we are going to try our hardest to get this one back into the sea."
Marine mammal expert Rod Penrose said there was a "very good chance" more turtles could appear.
He said: "The sea temperatures on the east coast of the USA recently dropped causing large numbers of Kemp's ridleys to become cold-stunned."
"This condition leaves the turtles in a lethargic condition unable to feed or swim against strong currents."
A spokesman for the Wildlife Trust said about 30 Kemp's ridley turtles had been stranded on British and Irish beaches in the past, though the majority were recorded in the South West and Wales.
---
Kemp's ridley turtles
Kemp's ridley turtles grow to around 27ins (70cm) long, and up to 88lbs (40kg) in weight
Their shell is olive grey, while their underside is a yellowish white colour
They are usually found near Rancho Nuevo in Tamaulipas, Mexico, where they breed
The species is critically endangered and has a female breeding population of about 1,000 turtles
Source: World Wide Fund for Nature (WWF)