MP Dan Rogerson calls for police commissioners to be scrapped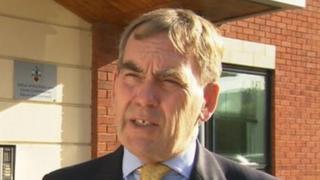 An MP has called for elected police and crime commissioners to be scrapped.
North Cornwall MP Dan Rogerson said the money spent on PCCs would be better used to fund more frontline policing.
The Lib Dem MP said he had previously supported the creation of the role "to see if it works" but now believed a policing board of local councillors would provide better scrutiny.
Devon and Cornwall PCC Tony Hogg said his office was "working very hard" and was "efficient and effective".
Police area
Covers 3,961 square miles, including more than 700 miles of coastline
Force polices a population of about 1.7m residents in 722,300 households, but also has to deal with about 11m visitors a year
Also has to police more than 70,000 students
Plymouth, Torquay and Exeter classed as "urban centres of significant size"
Remainder of the population "is spread between smaller urban clusters, market towns, villages and seaside towns"
Source: Devon and Cornwall Police
Mr Rogerson said that "across a rural area like Devon and Cornwall, it's difficult to be police and crime commissioner in any meaningful way".
He said the commissioner had been "practically invisible" in rural north Cornwall, making only a handful of official visits in his two years in office, compared to 72 in Exeter in that time.
The MP added that, besides emergencies, people were finding it difficult to contact police for any other assistance, citing recent problems with the 101 service.
He said: "I don't think people see a police commissioner as someone that they can get to."
Mr Hogg, who was elected as Conservative PCC for the region in November 2012, acknowledged that he had a "huge patch", but said he visited "an enormous amount of towns, villages, and people".
He added that his office had "challenged recent problems" with the 101 system, saying: "Nobody has done that before. We're righting that service."
The PCC also said that Cornish councillors were members of a scrutiny board that made sure policing concerns were addressed.
He said: "We're working very hard in this job, we are efficient and effective in this role."