British Airways passengers stranded at Mumbai Airport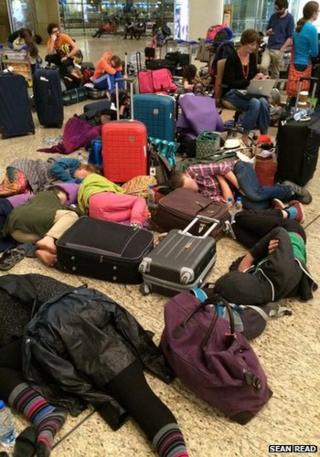 Nearly 40 British Airways (BA) passengers have been stranded at Mumbai Airport after they missed a connecting flight.
One passenger said children and disabled people were among those forced to sleep on the floor after delays affected the connecting flight.
Musician Sean Read said a "massive shouting match" erupted between staff.
BA said alternative flights had been found and the last passengers should leave on Tuesday.
Mr Read, who is the keyboard player for the Manic Street Preachers, the Rockingbirds and Chrissie Hynde, tweeted that some families had paid up to £5,000 to get home as a result of the problems.
'Offered no food'
He was among 38 passengers who had flown from Goa to Mumbai with Air India on Sunday night.
Mr Read, from Hackney, east London, said they had missed the connecting BA flight to Heathrow because of a number of problems including "delays getting through security and no walkway being present for us to leave the plane and get into the terminal".
The Heathrow flight was due to depart at 02:30 local time (21:00 GMT on Sunday) and Mr Read said BA was aware passengers were due to board the flight, but the company let the plane take off.
He said he had been told by Air India that BA would hold the flight, but following the departure there was a "massive shouting match" between staff of the two airlines.
Mr Read said: "Staff left us to sleep on the airport floor. There were kids, people in wheelchairs and we were offered no food or hotels.
"Forty of us were left in an empty airport.
"[Earlier] staff told us it could take up to eight days to get us all home.
"Today [Monday] some people have managed to get flights and the airlines seem to be both working together."
'Dodgy signals'
At about 19:00 local time (13:30 GMT) on Monday, 12 people remained at the airport, said Mr Read.
"BA have offered us a hotel for the night.
"Most of us are professionals. I've got recordings and meetings I'm meant to attend and I've had to reorganise them using dodgy internet and phone signals," Mr Read said.
BA said the final stranded passengers should leave Mumbai on Tuesday.
A company spokesperson said: "Our staff in Mumbai worked hard to assist customers who missed their connection.
"Our flights from Mumbai are incredibly busy at this time of year, and in order to get customers on their way as quickly as possible we booked those affected on to flights operated by both British Airways and other airlines."
Air India is yet to comment.