Exercise plans and health crazes starting 2015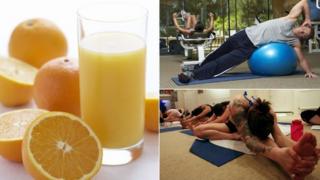 With a new year comes new exercise plans, health crazes and diets. BBC News looks at some of the options.
Susan Hart, who has been a nutrition coach since 2002, said in terms of diet, it is all about small but permanent changes.
"Each year new fads come out to promote quick weight loss which also claim to benefit your health but they can't be sustained.
"Crash diets do not teach you healthy eating habits and it's about balance and moderation."
Juicing
With more kitchen gadgets available than ever before, Ms Hart believes blending fruit is a better option than juicing because it retains the pulp and fibre.
"You want to drink that as well as the vitamins and antioxidants.
"Try to go for seasonal fruit which is also often the cheapest and nutritionally the best."
Belle Amatt, a clinical nutritionist, said juicing was a "fantastic way of getting more than your recommended five-a-day".
"You can't go wrong with one 150ml glass a day containing a mixture of apple, beetroot, carrots, ginger and lemon."
Miguel Toribio-Mateas, chair of the British Association for Applied Nutrition and Nutritional Therapy, said the key was to not overload the juice with fruit sugar, instead using more vegetables to normalise blood sugar levels.
Health apps
With the rise of technology and smart phones, dozens of applications are on offer to measure calories and the distance you walk or run.
"If you are just starting running again, apps can be a very personalised way of helping you progress," said Zoe van der Velden, a personal trainer from Bristol.
Ms Hart said: "Many allow you to scan a barcode which will tell you how many calories are in certain food items, which can be helpful.
"Anything which gives you information about how to have a healthy diet must be good."
She said she often uses the NHS website because the apps are reviewed to ensure they are safe.
"It's all about giving someone information and putting them back into control."
Hot Yoga
Hot yoga grew out of techniques popularised in the 1970s, in which classes were taught in rooms with temperatures of around 40C (104F).
"The premise is that the heat warms your muscles up very quickly and effectively so you can go into deeper stretches," said Ms van der Velden.
"There is an argument that says the body's pain reflex is there for a reason and working through it maybe isn't a good idea. But there are many benefits to be gained from the toning, strengthening and stretching involved in yoga.
"And perhaps because the temperatures outside are so cold, hot yoga is becoming very, very popular - although it has yet to reach rural areas in a big way."
Ms Hart said it was all about the activity being fun and different.
"As long as it gets you hot and sweaty and it gets you off your bottom it's a good thing."
Flexible gym-going
"Since the recession, joining a gym has become a lot less popular," said Ms van der Velden.
"But there are all sorts of means of using facilities without having a gym membership."
She points to companies which offer members pay-as-you-use access to a range of classes, gyms and facilities in their area.
"People are joining gyms much less now - it's almost passé," she said.
Running
More than two million people in England now run regularly at least once a week, according to Sport England.
But throwing an additional challenge into your morning jog is becoming an increasing trend, according to fitness experts.
"Things like adventure racing are becoming more popular," said Ms van der Velden. "It's like racing but with obstacle course, outdoor elements, like cross country and climbing.
"Some people will work towards one or two races a year - some people will do them more regularly."
Pole dancing
Pole dancing - traditionally associated with scantily-clad women performing exotic acrobatics in nightclubs - is fast becoming a popular exercise technique among women everywhere.
"It's very current and it is actually something people are taking up in the new year," said Ms van der Velden. "And it does seem to work.
"You need phenomenal strength for it - it's great for your core muscles. It's also good for people's confidence and, as it's often done to music, it's fun."
She said it was normally offered by specific studios rather than mainstream gyms.