Great Western rail works impact 'disproportionate to passengers'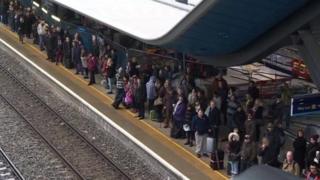 Rail work on the Great Western mainline is causing "a disproportionate impact to passengers", a Network Rail boss has said.
Route managing director Patrick Hallgate made the comment in a letter to MP Rob Wilson.
It was in response to Mr Wilson's concerns over delays and cancellations to train services around Reading Station during late 2014.
Mr Hallgate cited Crossrail and re-signalling works for the disruption.
He said future problems were inevitable due to the complex nature of the work being undertaken but added additional mitigation measures were being explored, including extra vigilance when working around high risk cables.
Mr Hallgate also said there was added emphasis on ensuring those caught up in future disruptions would be provided with adequate information, which Network Rail is working on in conjunction with operator First Great Western.
The resignalling works east of Reading are due to be completed at Easter, he added.
"This removes a notoriously poor performing section of infrastructure and replaces equipment now 60 years old in places."
Mr Wilson, Reading East Conservative MP, described the work as "the biggest investment since the Victorian era".
However, he added: "Apologies and acknowledgements of error cannot absolve poor performance; what commuters expect is an efficient, punctual service and that is something I will continue to push for."
Separately, the disruption at King's Cross and Paddington after Christmas has been raised in the House of Commons.
Secretary of State for Transport, Patrick McLoughlin, described the disruption as "totally unacceptable" but added the "vast majority of complex projects" had been completed on time, including a "vital new flyover" at Reading.
A delegation led by Sir Nicholas Soames, Mid Sussex Conservative MP will meet with the Parliamentary Under-Secretary of State for Transport at the Department for Transport on 14 January to discuss the issues.