Kimberley tram plan study gets council backing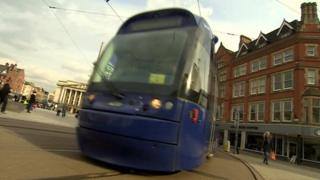 A much-discussed feasibility study into a new tramline beyond the M1 has finally got council backing.
Line four would be a £180m route from Nottingham to Ripley in Derbyshire, via Eastwood, Kimberley and Langley Mill.
At a third debate, Broxtowe Borough Council agreed to put £20,000 towards the £70,000 study.
Lib Dem councillors said the survey would be "detailed" but local Conservative MP Anna Soubry said it would be of "little value".
Line one of Nottingham's tram opened in 2004 and a £570m extension - lines two and three - is due to open in 2015, six months late and after complaints about disruption.
The Labour group on Broxtowe council have been championing the idea of a new tram line for some time, but the Lib Dems voted against the study in December.
Ian Tyler, from the party, said they felt its remit needed to be more focused.
"Now we feel lessons from the current tram works in Beeston, where there has been tremendous disruption, have been included.
"It's a much more rounded and detailed study now.
"Traffic in the area was at a standstill at times over Christmas and something needs to be done - and we need to know if the tram is the answer."
Broxtowe MP Anna Soubry said: "Broxtowe Borough Council is not the transport authority so any report is of little value.
"The construction of Nottingham's tram line to Toton has caused chaos in Beeston, Chilwell and Toton.
"If Broxtowe has a spare £20,000 they could spend a fraction of that on an inquiry into what has gone so badly wrong and learn the lessons."