Charlie Hebdo attack 'a moment for courage' says Archbishop of Canterbury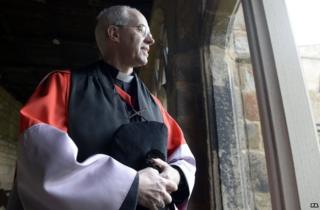 The Archbishop of Canterbury has described the shooting at the French satirical magazine Charlie Hebdo as "a moment for courage".
The Most Reverend Justin Welby was speaking before receiving an honorary degree from Durham University, where he studied for ordination.
Speaking in Durham Cathedral the 59-year-old said he was "very grateful" for the "very unmerited" honour.
He also spoke in support of the "good and important value" of free speech.
Previously an executive for Elf Aquitaine in Paris, he said: "The French are like the British, a country of enormous resources and strength, of great courage, who have recovered from worse than this before."
Asked to comment on religion being used as an excuse, he replied: "Religion is a very easy hook to hang other conflicts on - always has been."
Dr Welby was the Durham diocese's bishop before being promoted to the Church of England's most senior role.