Trains hit by technical problem near Rugby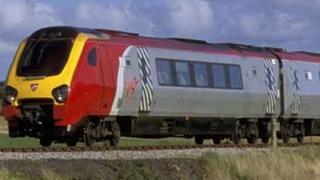 Trains between London and the north west of England were brought to a halt by technical problems near Rugby.
Trains on the West Coast Main Line between London, Birmingham and the North West, stopped at about 14:00 GMT.
A Network Rail spokeswoman said a train driver reported a damaged pantograph, the metal arm which draws electricity from the overhead lines, near Rugby.
She said the line had re-opened but services would be affected for the rest of the day as trains were out of place.
Monday plea
"Subsequent inspections revealed damage also to the overhead lines which affected journeys from the North West to London," the spokeswoman said.
"Engineers have now put in place a temporary fix allowing trains to pass through the area and will complete their work overnight."
Alternative routes could be taken via King's Cross or St Pancras and tickets would be accepted on Monday for passengers able to defer their journeys, she added.
Virgin Trains said all its services had been affected earlier.
It advised customers to check their journey and defer travel until Monday if possible..
Stoke City fans who had travelled to the Emirates Stadium to watch their team play Arsenal were told over the tannoy at the ground about the problems they may face getting home.