Avengers and Professionals writer Brian Clemens dies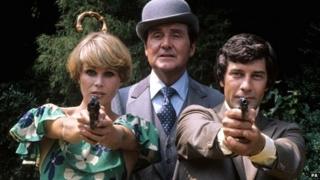 The scriptwriter and producer Brian Clemens, responsible for TV hits such as The Avengers, New Avengers and The Professionals, has died aged 83.
Clemens, honoured by The Queen in 2010 for services to broadcasting and drama, died on Saturday, his family confirmed.
He wrote various television series including The Baron, The Persuaders, The Protectors, Danger Man, The Invisible Man and Bergerac.
One of his sons, George Clemens, said: "He was a true inspiration."
He told the BBC: "The world has lost a really great man who has given so much."
Born in Croydon in 1931, Clemens had his first work commissioned by the BBC in 1955.
He went on to be a staff writer for a film and TV production company, before enjoying considerable success with a huge number of TV scripts in the 1960s.
His production companies created The New Avengers and The Professionals, while Clemens also wrote for a number of US shows including Remington Steele, Perry Mason and the Highlander TV series.
He wrote and produced for Hammer Films, while his screenplay credits included Highlander II: The Quickening.
'Backroom boy'
Receiving his OBE in the Queen's Birthday Honours he said: "I am pleased from the point of view of all screenwriters.
"It is an encouragement to the backroom boys - I count myself as one."
George Clemens said his father had been working with him and his brother Samuel on a horror film.
"The last thing he did for me was with a problem with the script and he had a wonderful solution for," he said.
Samuel Clemens told the BBC the last thing Brian did before he died was watch an episode of The Avengers.
"His last words were: I did quite a good job," said Samuel.
The brothers, with their mother Janet, have started a Facebook page tribute to their father.
Clemens, who lived near Ampthill in Bedfordshire, was also involved in The Elstree Project.
A spokesman for the project said in a statement posted on its website: "Brian gave his support and time to The Elstree Project and is featured in our documentary film, through clips from the oral history interview he gave to us, as well as the short documentary we made about the making of The Avengers at ABPC Studios in the 1960s.
"We are hugely grateful to Brian and send our love and support to his wife Janet and their family."
Howard Berry, leader of The Elstree Project, said: "Brian Clemens must have been one of the most prolific writers.
"I think the landscape of TV from the 50s onwards would not have been the same without him. He was involved in the films and television I grew up with."