South Central Ambulance Service report praises staff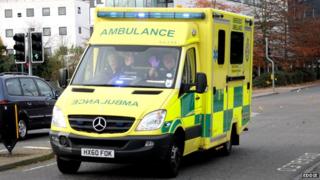 Staff at South Central Ambulance Service have been praised in a report by the Chief Inspector of Hospitals.
The trust covering Buckinghamshire, Hampshire, Berkshire, and Oxfordshire had 12 areas of "outstanding practice", including showing care to patients.
It was ranked the best in England for cardiac arrest patients "who survived to be discharged from hospital".
But the report also found emergency calls were not being answered within target times due to staff vacancies.
'Dignity and respect'
Overall, the CQC inspection led by Sir Mike Richards found the South Central Ambulance Service NHS Foundation Trust (SCAS), which serves more than 4m people, provided "safe and effective services which were well led with a clear focus on patient care".
It praised staff in its summary: "Staff were positive about the quality of care they provided for patients and were proud to work for the trust.
"Staff were caring and compassionate, and treated patients with dignity and respect.
"Patients told us their experiences of care and treatment was good."
'Working without breaks'
However, the report also highlighted that vacancies in emergency operation centres meant "staff worked long hours, sometimes without breaks, to deliver the service".
It stated emergency calls were not being answered within target times during five unannounced inspections in September and October.
It added the patient transport service, which deals with non-urgent transport, was also not meeting performance targets, which was having "an impact on patients' care and treatment".
SCAS head Will Hancock said: "We welcome the report findings and the opportunity that this has given us to see ourselves as others see us.
"I was delighted that the CQC remarked on how proud staff were to work for SCAS."