Businesses to be approached for River Thames flood cash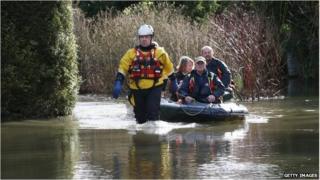 Businesses and utility companies will be approached to contribute towards a £300m River Thames defence scheme.
The government has increased its funding towards the project by £60m, taking its total to £220m.
The Regional Flood and Coastal Committee (RFCC) will add £30m, meaning an extra £50m needs to be raised.
The scheme involves reducing the flood risk along the Thames between Datchet and Teddington by building a flood channel and improving three weirs.
In February 2014, flooding devastated homes and business along the river.
'Vital project'
Surrey County Council, the three local authorities for Elmbridge, Spelthorne and Runnymede, the two London boroughs of Kingston and Richmond, and the Berkshire authority for Windsor and Maidenhead will work to secure contributions over the next 18 months.
Local enterprise partnerships will also be approached for money.
It is estimated 15,000 homes and businesses could be protected by the plans.
Surrey leader David Hodge said: "The government's increased funding has made the scheme more achievable but it still leaves it around £50m short.
"That is why we will be seeking funding from utility companies, businesses and local enterprise partnerships whose customers and residents will benefit from the river defence while also committing to contributing towards this vital project ourselves."