Breck Bednar's mother says police missing Lewis Daynes allegations 'appalling'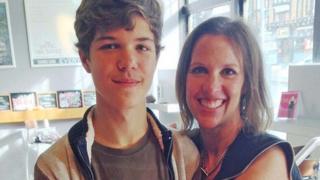 The mother of a schoolboy murdered by a man he met through online gaming said it was "appalling" police missed previous allegations about the killer.
Breck Bednar, 14, from Caterham in Surrey, was stabbed by 19-year-old Lewis Daynes at a flat in Grays, Essex.
Daynes's name was already on the national police systems over sex offence allegations, it has emerged.
Breck's mother, Lorin LaFave, said when she reported her concerns about Daynes, those details were not accessed.
'Another blow'
Daynes was sentenced to life in prison for the murder last week.
"It's appalling to find out this information was in the system and went unaware," she told the BBC's Today programme.
"It's another blow. Every day is hard enough, then you receive a piece of information like this - that it was on the system and easily accessible - and it wasn't even attempted to find out whether this person was safe or not."
Ms LaFave rang Surrey Police in December 2013 to express her concerns about Daynes, who she believed was grooming her son online.
"I gave them his name, age and address. All they had to do was look on the database to see previous allegations concerning another boy," she said.
Essex Police confirmed the details of Daynes's arrest over the suspected rape of a boy in 2011 were placed on the Police National Computer and later on the Police National Database.
Details of the allegations were revealed before Daynes's sentencing for murder.
Kevin Hurley, Surrey's police and crime commissioner, said he could not comment on this specific case.
"But budget cuts, problems with retaining staff and training issues meant that I cannot confirm procedures are followed 100% of the time," he said.
The police call handler who dealt with Ms LaFave's call resigned from the force last year.
Ms LaFave said it was "unacceptable" for the commissioner to blame poor training for someone not doing their job.
The Independent Police Complaints Commission is looking in to the force's handling of the call and the conduct of Essex Police, which referred itself to the organisation.
Chelmsford Crown Court Judge Mrs Justice Cox said the murder, in February last year, was "driven by sadistic or sexual motivation".