Bournemouth's Beales department store chain facing takeover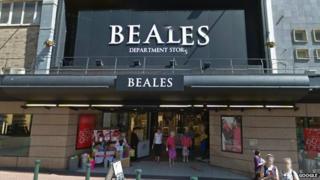 A property boss who accused department store chain Beales of "some type of record" for foolish behaviour is poised to complete a cut-price takeover of the company.
Andrew Perloff has made a bid for the firm that values Beales at £1.23m, a 48% discount on its value on Friday.
Beales has 29 stores across the country and was founded in 1881 in Bournemouth.
It described the bid as disappointing but has reached an agreement on the terms of the offer.
'One fell swoop'
The £1.23m offer is the equivalent of 6p a share, down from 11.5p at the end of the day on Friday.
Mr Perloff's firm Panther Securities and its associates own almost 30% of Beales, as well as the freeholds of 11 of the company's stores.
Panther's representative Simon Peters was removed from the board of Beales in July.
In a response published to the stock market, Mr Perloff told the Beales board he held the view it was "foolish to upset your landlord, it is foolish to upset those that provide you with finance, it is foolish for a quoted company to upset its largest shareholder, it is foolish to sack a director who is knowledgeable, well connected and who does not charge a salary or any expenses".
"In one fell swoop Beales has managed all of these, which must be some type of record," said Mr Perloff.
English Rose, the company which has made the offer and which is owned by Mr Perloff's company Portnard, has reached an agreement on the terms of the takeover offer with Beales.
The department store's chairman William Tuffy said: "English Rose's proposal offers the certainty of a cash exit for shareholders and improves the medium-term financial security of the Beales business."
Mr Tuffy added that realistic alternatives to raise additional capital could not be achieved without the support of Beales' major shareholders.