Marcus Marcussen trial: PE teacher was 'sadistic bully'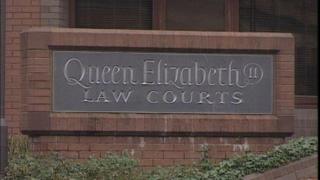 A retired PE teacher was a "sadistic bully" who sexually abused schoolboys for three decades, a court has heard.
Marcus Marcussen, 91, denies 30 counts of indecent assault and three of indecency with a child.
Sarah Buckingham, prosecuting, said pupils in Birmingham were threatened with a rod that "looked like a whalebone" and forced to swim naked.
Fifteen boys, aged under 16, are alleged to have been assaulted between 1957 and 1978.
'Veneer of respectability'
Mr Marcussen, of Rochford, near Tenbury Wells, taught at Illmington Road Comprehensive School, in Weoley Castle, between 1945 and 1983, before retiring, Birmingham Crown Court heard.
Opening the case, Ms Buckingham said the defendant was known for his work in the community and also helped disadvantaged boys but "hid behind a veneer of respectability".
"He used his position over many years to sexually assault boys," she said.
The prosecutor said Mr Marcussen operated at a time when society was "far less sophisticated" with limited supervision of children and paid only "lip service to matters of health and safety".
She said the abuse happened during and after PE lessons at the school and at a swimming club called the Square Club in in Weoley Castle.
She told the jury the case came to light after one of the alleged victims, who was a pupil at the school in the 1970s, sought help after suffering a breakdown.
Reports of the court case in the media led to other former pupils coming forward, she said.
Ms Buckingham said this alleged victim described himself as "rather a vulnerable boy" who was in care. He was good at gymnastics but was preyed upon by Mr Marcussen during gym lessons and feared the teacher, who he said was "an overbearing, dominating and frightening personality".
She said another ex-pupil had told his wife he would never forget Mr Marcussen as a "sadistic bully" who repeatedly turned the showers from scalding to freezing cold to discipline pupils.
'Not a witch-hunt'
Pupils were made to stand on chairs with one leg up while the teacher touched their genitals, saying he was "just making sure you are dry", the prosecutor told the court.
She said inappropriate touching took place at every weekly lesson.
"Boys came to fear PE and compulsory showers and were left confused, vulnerable and invaded," she said.
The court was told pupils were made to swim naked and were also naked during scuba diving lessons when the defendant would watch them underwater through a diving mask.
Ms Buckingham said the case had been brought to "give a voice" to the alleged victims who were now in their 50s, 60s and 70s.
"This isn't a witch-hunt, the prosecution is not picking on an elderly man in his twilight years," she said.
"Whatever his age, the prosecution say, it is in the public interest people, wherever possible, are brought to court to answer the charges brought against them and for the jury to decide, having listened to the evidence."
The case continues.