Dumbledore the seal, found in a field 20 miles from the sea, dies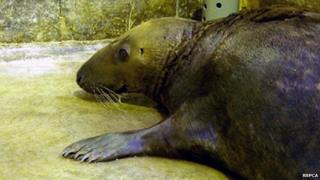 A seal found exhausted in a field about 20 miles from the sea has died.
Dumbledore, named after the Harry Potter character, was treated for pneumonia after being found in Newton-le-Willows in December.
Staff at the RSPCA East Winch centre in Norfolk "worked tirelessly" to save the young adult grey seal.
"After 26 days in care, and despite receiving highly skilled care, his health was deteriorating fast and he died on Saturday night," he said.
"Sadly, wildlife rehabilitation is particularly challenging and, of all the species the wildlife centres take in, seals are one of the more difficult to rehabilitate."
The 5ft (1.5m) long seal was rescued by Merseyside Police, firefighters, animal rescue officers and a farmer after being found by a dog walker on 22 December.