Badger cull activist Jay Tiernan given suspended sentence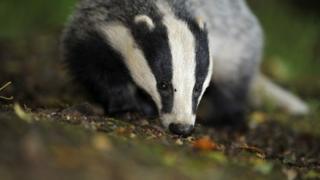 An animal activist who disrupted badger culls has been given a suspended sentence for breaching an injunction protecting those involved in the culls.
Jay Tiernan, 44, of the 'Stop the Cull' movement was sentenced at the High Court to six months imprisonment suspended for two years.
He was also ordered to pay the National Farmers Union (NFU) £25,000 in costs.
Mr Tiernan apologised for harassing farmers during the 2013 pilot culls in West Somerset and West Gloucestershire.
He was found guilty of contempt of court because of nine breaches of an injunction granted to the NFU against campaign groups in August 2013.
Mr Tiernan, from Bristol, described the sentence as "quite steep". "I haven't been arrested and yet I'm facing six months in prison if I stand in front of someone," he said.
'Man of good character'
The government sanctioned culls in a bid to stop the spread of bovine TB.
Mr Tiernan's actions included filming a farmer shooting and killing a badger which he then uploaded to YouTube, and trespassing on private land.
Mr Tiernan said he wanted to say sorry to the NFU and the farmers targeted.
Judge David Eady said the activist "was a man of good character", and noted the breaches did not involve violence or damage to property.
But he said they were "clearly deliberate" and "defiant of the court's orders of the time".
Following the hearing, the NFU said it hoped Mr Tiernan's sentence will "send a warning to other people that such action will not be tolerated".
"We cannot condone actions designed to harass, intimidate and threaten farmers and others protected by the injunction who are doing nothing illegal," it added.