Ex-MEP Ashley Mote denies £300,000 allowance fraud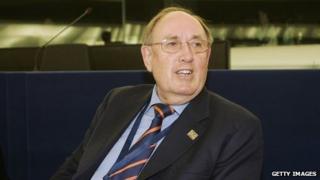 A former South East England MEP has denied fraudulently claiming £300,000 in parliamentary assistance allowance.
Ashley Mote, 78, who sat as an independent after being thrown out of UKIP, pleaded not guilty to misconduct in a public office at the Old Bailey.
He also denied eight other charges including obtaining a money transfer by deception, false accounting, fraud and acquiring criminal property.
Mr Mote is to appear for trial at Southwark Crown Court on 20 April.
The court was told the misconduct in a public office charge related to false claims for legal advice and research, amounting to more than £300,000 that Mr Mote is alleged to have made between 10 June 2004 and 30 June 2009.
Mr Mote, of Binsted, Hampshire, was an MEP at the time of the alleged offences, but resigned his seat in 2009 prior to the European elections.