East of England Ambulance chief reveals 'intolerable' hospital waits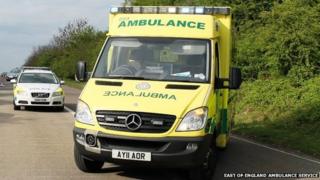 Ambulance queues at hospital accident and emergency departments to deliver patients have reached "intolerable" levels, a chief executive has revealed.
Dr Anthony Marsh, who heads the East of England Ambulance Service, will report 2,400 shifts were lost waiting for hospitals to take 999 emergencies.
That is the equivalent of seven ambulances per shift, he will tell the NHS ambulance trust board.
Paramedics must handover patients within 15 minutes to meet targets.
Last week 872 ambulances waited more than 30 minutes in the East region according to the latest figures from NHS England.
Dr Marsh said: "We are experiencing significant pressures from other parts of the healthcare system.
"The delays in hospital handovers are preventing ambulances from responding to further patients and are reaching intolerable levels."
Last week the biggest queues were at Colchester General, which had a total of 168 ambulance delays last week.
Basildon, James Paget Hospital, and Hinchingbrooke hospitals registered no delays at all.